Buzz Brite values the opinions of all of our customers. Our Kelowna and Vernon clients are encouraged to take a moment to review our cleaning services in order to help us improve them.
When getting feedback, we give special attention to the privacy of our customers. We also respect their time. For this reason, we have made sure a reliable and simple review platform is available.
Please open the following file for simplified instructions for posting a review on our Google Business Page®. It will only take you a minute or less to follow these 4 simple steps.
How to post a Google Business Page review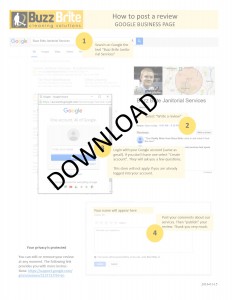 This instruction manual has been designed for active customers of our commercial, office, retail store, and window cleaning services. If you are located in or near Kelowna or Vernon, and are not currently benefiting from our cleaning solutions, please contact us for more information.